Appraising all types of Real Estate since 1970:


James F. Windley, MAI and is licensed as a Virginia Certified General Appraiser (#4001-001279). He has served a wide variety of clients including, lenders, attorneys, brokers, government agencies, estates, and individuals while addressing varied appraisal problems. Mr. Windley has an extensive background in condemnation appraising and also testified as an expert witness in most area courts. Mr. Windley was a Staff Appraiser and Reviewer for VDOT for 30 years and he had a fee practice specializing in complex properties since 1980.

"I have had a wide variety and depth of experience in doing and reviewing all types of property over a career since 1970. I have done a number of difficult, problem and interim use properties." J Windley

He has specialized in complex, unusual, and problem properties and did many foreclosed properties for Resolution Trust Corp.

Qualification Summaries for James and other associates with

Virginia Commercial Appraisals, Inc.

will be furnished upon request.
James F. Windley, MAI
Certified Commercial General Appraiser
James F. Windley, MAI
443 Douglas Ave. Portsmouth, VA 23707
Phone: 757-393-1534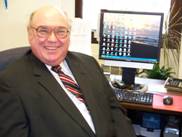 Fair appraisals at a reasonable cost Completed in a timely manner In conformance with professional standards